"Anthropologie: Uniquely Curated Fashion & Décor"
"Anthropologie: Uniquely Curated Fashion & Décor"

Anthropologie is an iconic retail store that has been delighting shoppers with their uniquely curated fashion and décor for years. Their vintage-style clothing is one of their most popular offerings, as it allows customers to make a bold and timeless statement. In this blog post, we'll explore how you can make a statement with Anthropologie's vintage-style clothes. So, if you're looking for a one-of-a-kind look, keep reading to find out how Anthropologie can help you do it!

Anthropologie not only offers beautiful clothing and home décor, but also a range of women's beauty and wellness products. From skincare and makeup to self-care items like candles and bath products, Anthropologie has it all. Many of their beauty and wellness products are eco-friendly and made with natural ingredients, so you can feel good about using them on your skin. Whether you're in need of a new lipstick or looking to pamper yourself with a luxurious face mask, Anthropologie's beauty and wellness section has something for everyone.
Anthropologie is known for their uniquely curated fashion, and their selection of women's clothing is no exception. From dresses to tops to pants, their clothing collection offers vintage-inspired styles with modern twists. Each piece is designed with intricate details, such as embroidery, lace, and ruffles, making them stand out from other retailers. Plus, Anthropologie offers a range of sizes, from petite to plus, ensuring that every woman can find something that fits and flatters. So whether you're looking for a statement piece or a new staple for your wardrobe, Anthropologie's women's clothing section is definitely worth a browse.
Anthropologie offers a unique and curated selection of mini and tunic dresses that are perfect for making a statement. From vibrant patterns to delicate embroidery, their dresses are crafted with high-quality materials and attention to detail. Whether you're looking for a playful and flirty mini dress or a more relaxed and comfortable tunic dress, Anthropologie has a range of styles that cater to all fashion preferences. With their vintage-inspired designs, these dresses are sure to turn heads and add a touch of personality to your wardrobe.
Looking for the perfect pair of sandals to take your summer wardrobe to the next level? Anthropologie has got you covered. With their unique and curated selection of women's sandals, you're sure to find something that matches your style. From boho-inspired strappy flats to block-heeled mules, there's something for everyone. And with Anthropologie's commitment to quality and comfort, you can trust that your new sandals will not only look great, but also feel great on your feet. Shop now and step out in style this summer!
Looking for the perfect shoes to complete your outfit? Anthropologie has got you covered with their selection of women's heels and wedges. From classic pumps to trendy platforms, you'll find a variety of styles to fit your taste. And don't worry about sacrificing comfort for fashion – Anthropologie's footwear options are designed with both in mind. Whether you're dressing up for a special occasion or just adding a touch of elegance to your everyday look, Anthropologie's heels and wedges will elevate your style game.
In addition to their stunning clothing, Anthropologie also offers a unique collection of home décor and furniture items. From bohemian bedding to statement rugs and eye-catching lighting fixtures, there is something for everyone at Anthropologie. Their furniture collection includes vintage-inspired pieces, such as velvet couches and ornate dressers, that are sure to add a touch of charm to any living space. And with a wide selection of kitchen and dining essentials, you can add some style to your daily routines as well. Anthropologie's home and furniture items are curated with the same attention to detail and artistic flair as their clothing, making them a perfect addition to any fashion-forward home.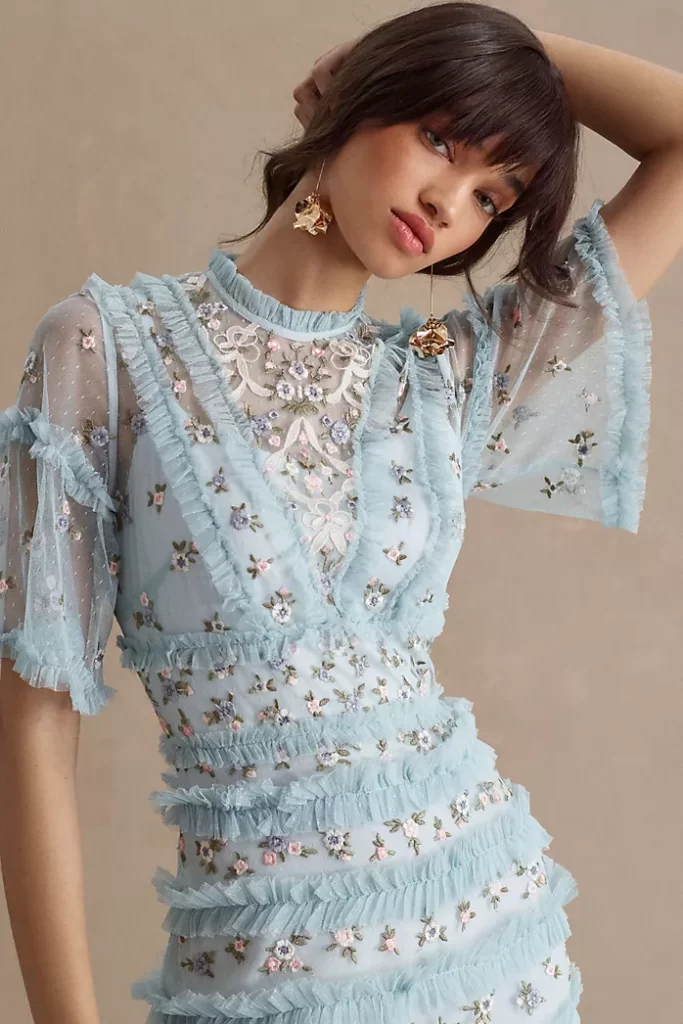 For mothers of brides looking for a special outfit to wear on their daughter's big day, Anthropologie offers a unique selection of elegant dresses and accessories. From stunning floor-length gowns to more casual, yet still sophisticated, dresses, Anthropologie has something to suit every mother's personal style. Pair the dress with one of their beautiful heels or wedges, and finish off the look with a statement piece of jewelry for a memorable ensemble. With Anthropologie's attention to detail and expert curation, mothers of brides are sure to feel their best on this special occasion.